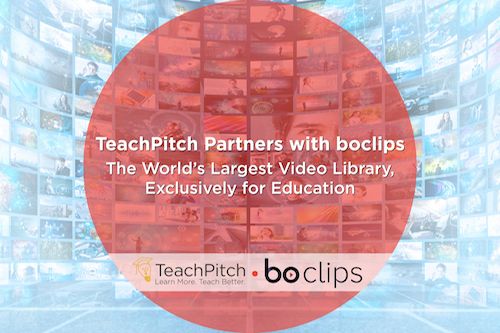 Team TeachPitch is very proud & happy to announce its partnership with boclips, the world's largest video library, exclusively for education.
Over the coming months, TeachPitch will work on delivering boclips' high quality educational videos into schools and classrooms through its TeachPitch for Schools software.
All our school customers will be able to access to over 2 million videos from the world's best video brands through our dedicated 'Discovery Partners' section.
"We are very excited to partner with the great team at boclips. We love their team, product and content and are very keen to work with them to deliver the best video resources into our growing pool of customer schools." said Aldo de Pape, CEO of TeachPitch.
"I'm delighted that TeachPitch has chosen boclips to be its turnkey solution for educational videos within its 'Discovery Partners' section and unlock a world of videos for schools and classrooms. " said David Bainbridge, CEO of boclips.
Click here if you are curious to find out more about the great videos that boclips has to offer.
As of this week, all TeachPitch clients will be able to access boclips' videos exclusively through our software.
You can contact TeachPitch at info@teachpitch.com should you have any further questions or ideas about this unique partnership, or email us at contact@boclips.com