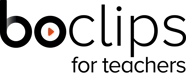 WEBINAR:
AppSmashing with Boclips
June 18 at 8 p.m. EST
In today's world of highly specialized web applications, it's often necessary to use more than one app to get a job done.
Join us as we explore the AppSmashing with Boclips in an effort to help students share their understanding. We will explore three use cases and share how Boclips works with Flipgrid, ChatterPix, Thinglink.