What is differentiation? Think of it as a class road trip: If each student were handed a map of the United States and told to plan a trip from Point A to Point B - say, Washington D.C. to San Diego - what routes would they come up with?
Some students might want to take the most direct route possible, whilst others may choose a more meandering course. It's also likely that each student will have their own preferred mode of transport and a list of sights they want to see along the way. But no matter how they make the journey, as long as they reach San Diego, they've achieved their goal. The same applies for learning outcomes. Teachers are usually focused on the skill they want their students to learn, and that skill is the destination. But how can a teacher support each student's journey?
<<Want to learn more about how you can amplify great teaching with video? Schedule a demo>>
Often differentiated instruction in schools appears in its most labor-intensive forms: individual learning plans (IEPs), or project-based learning (PBLs). These, on top of gifted and specific needs programs, can make differentiated instruction look like a massive hill to climb. But it doesn't have to be. If the teacher has a strong knowledge of their students' learning profiles, personal interests, and individual goals, differentiating from a single lesson plan can be quite easy.
Digital media tools like video allow for differentiation to the whole classroom, often with no additional planning required. No two classrooms are the same. Different approaches reach different students, whether they're artistic doodlers, music makers, shy or bold, tech-savvy or highly emotionally intelligent.
Video can impact a lesson from any of the four spheres of pedagogical influence: content, process, product, or learning environment. In this post, we'll focus on how to differentiate content with video resources. Here are some quick, easy to implement tips to use in the classroom: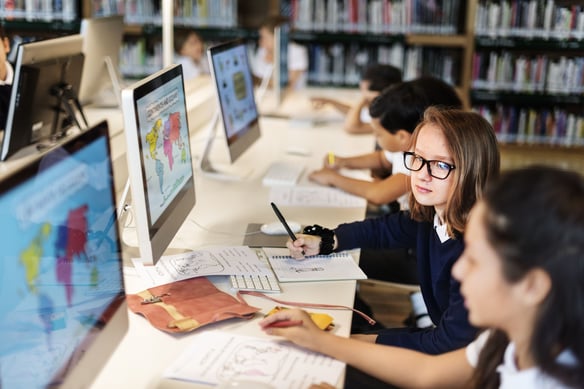 1- Allow students to select their own video resource within a given topic to compare and contrast with the main text

During a unit on the geography of the Middle East, students can select their own video resource to compare and analyze national maps with religious populations, major water resources, wildlife reserves, traditional trading routes, or language families.
2- Utilize videos with varying levels of depth on a given topic for small group lessons or centers

A common characteristic of videos made for the digital space is a layered approach to investigating a topic. Supported by audio-visual information, videos make use of context and case studies to ensure that students can obtain the basic knowledge they need on a topic, while also leaving opportunities for higher-order thinking.
3- Assign members within a group different videos that cover different topics on a given theme

Large topics like digital citizenship or international relations lend themselves well to this approach. Once in small groups, each student uses video resources and research to become an expert on a sub-topic before returning to their peers as peer-teachers. Individual students in groups studying digital citizenship, for example, can use video resources to develop expertise on data, surveillance, cryptocurrency, social media and body image, digital activism, or misinformation and fake news.
These are just a few ways that teachers can use video to differentiate the content of lessons. These methods don't have to be time-consuming or difficult to implement, plus they allow students to learn using a medium they're familiar with. With a plethora of high-quality educational video available online, teacher's can find material to suit any subject, level, and student.
Do you want to discover more tips like these to try in the classroom? Download our free ebook!