This year's ASU+GSV Summit theme, "Ed on the Edge," could be interpreted as its authors intended: education on the brink of great, pioneering change. Education adapting and evolving. Education roaring ahead, into a future of equal access.
Less charitably, "on the edge" might describe how people all over the world are feeling now, amid a prolonged global pandemic and recent outbreak of war.
If you count yourself among the lucky, whose families are safe, we empathize with the anxieties you might yet have. If you or someone you know is affected by the war, our team at Boclips cannot express enough our sympathy and support. We are donating to Unicef, which is working to provide educational resources and other critical aid, such as hygiene products and safe drinking water, to Ukrainian children and families.
At the same time, we acknowledge how critical it remains that we carry on with our daily responsibilities and keep our larger mission in focus — to educate the next generation, who'll shape the future.
In that spirit, we've gathered a list of five influential speakers at this year's 2022 ASU+GSV Summit who are building a brighter tomorrow. These industry leaders are helping inspire and inform today's students. They affirm our commitment at Boclips to education and give us hope.

Photo description: Headshot of Nermeen Dashoush, Ph.D., on a black background
1. Nermeen
Das
housh, Ph.D.
Chief Learning Officer and Assistant Professor
Marcopolo Learning and Boston University
Dr. Dashoush's ASU+GSV bio: "Nermeen Dashoush, Ph.D., had the honor of starting her career in education as a prek-4th grade NYC educator for over a decade. Dr. Dashoush grew interested in STEM after identifying it as an underserved subject in early childhood and elementary grades. She is currently a Clinical Assistant Professor of Early Childhood Education. Dr. Dashoush serves as the Chief curriculum officer for Marcopolo Learning, where she overlooks all of their educational content."
Why we're excited: Marcopolo Learning's educational activities for children draw on early childhood education research. The curriculum is designed by educators and experts who utilize video and interactives — two of our favorite things at Boclips — to nurture children's natural curiosity. Marcopolo Learning also enables educators and families to monitor and glean helpful insights into children's learning activity. We can't wait to hear what Dr. Nermeen Dashoush has to say about digital learning and the Marcopolo Learning curriculum "designed to take learning offline."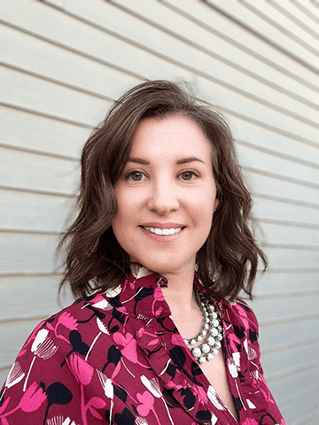 Photo description: Headshot of Kate Valenti, outside, wearing a floral pink shirt
2. Kate Valenti
Chief Operating Officer
Unicon
Kate's ASU+GSV bio: "Kate has over 20 years of consulting experience in enterprise application integration and deployment across the education ecosystem. As Chief Operating Officer, Kate leads the execution of strategies developed by our top management team and drives consistency and efficiency between and among departments. As an operational leader, she works at the intersection of client experience and employee engagement and places an emphasis on process clarity and data-driven decision-making. Previously Kate held senior leader positions at Unicon, including VP of Operations and Senior Director of Integrations and Analytics. Prior to joining Unicon, Kate worked at Cap, Gemini, Ernst & Young as a management consultant with a focus on enterprise application integration. Kate is passionate about the impact that well-designed and well-integrated technology can have on the learning experience. During her career in education, Kate has designed and developed integration strategies, programs, and technical services teams and has delivered dozens of integrated solutions to the market. Kate has both participated in and facilitated industry panel conversations and holds the EDUCAUSE Review Author microcredential."
Why we're excited: Unicon's user-centered approach to learning content optimization maps content to a six-step "learner's journey." From "identity," "learning," and "connections" to "assessment," "support," and "mastery," minding Unicon's stages of learning can help guide effective courseware design. Plus, Unicon helps institutions make better use of the tech and data they already have, a game-changer for departments seeking to make more data-driven decisions. We're looking forward to hearing Kate and other industry leaders speak about scaling competency-based education (CBE) at ASU+GSV Summit. Catch Kate at the April 5 session titled EdTech + CBE: Accelerating the Movement.



Photo description: Headshot of Gregory Sebasky in a blue button-down shirt
3. Gregory Sebasky
CEO
Ascend Learning LLC
Gregory's ASU+GSV bio: "As CEO of Ascend Learning, Greg Sebasky sees tremendous opportunity across the education landscape. With over three decades of transformational leadership across mission-driven businesses in healthcare and education services, his vision is clear, resonating throughout his organization: Commit every day to empower people to achieve successful careers and help change lives. Since joining the company in 2014, Greg has solidified and strengthened Ascend's strategic path, transforming it into the leading provider of educational content, software, simulation and analytics to help people enter and succeed in healthcare and other high-growth professions. Greg's career has long focused on the intersection of health and technology. He joined Ascend from Philips North America, where he served as Chairman of its North American operations. Before that, he was with Hewlett Packard, where, among his many roles, he helped oversee Agilent Technologies' spin-off from the company, at the time the most extensive initial public offering in Silicon Valley history. Greg graduated from the University of Notre Dame and earned his MBA from Harvard Business School."
Why we're excited: We're energized by Ascend Learning LLC's mission, "to change lives by providing software-based, data-driven educational support that accelerates learning, advances job readiness and enables employment success." Ascend's results-focused platform, emphasis on skill proficiency, and focus on high-growth professions that require certification are helping expand learn-to-earn pathways. Greg will be speaking at The Future of HireEd Pathways from Category Leaders.

Photo description: Headshot of Ashley Andersen Zantop, outside, in a check blazer and red scarf
4. Ashley Andersen Zantop
Chief Operating Officer
Cambium Learning
Ashley's ASU+GSV bio: "Ashley Andersen Zantop is Chief Operating Officer at Cambium Learning Group, the education essentials company providing award-winning education technology and services for PreK-12. Ashley has devoted her career to closing the opportunity gap and creating positive outcomes in education through the power of social enterprise and innovation. Before joining Cambium, she served in C-suite executive roles in both startups and mature businesses, including GreaterGood Capstone and Trudy Corporation. She began her career in the classroom as an elementary school teacher and collegiate coach. She serves on the SIIA's government affairs council and has served on the board of directors and executive committee for the SIIA's education division and co-chaired the Diversity Equity and Inclusion Committee. She is the co-founder and former co-president of the Fairfield University MFA Alumni Association. Ashley received an A.B. in education and an A.B. in English literature from the University of Michigan, teaching certifications K-5 and 6-8, and an MFA in creative writing from Fairfield University with concentrations in fiction and screenwriting. She holds certificates in Media Strategy from Harvard Business School, Executive Function in the Classroom from the Harvard Graduate School of Education, and Design Thinking instruction from Ideo U. She is the author of Now What? The Creative Writer's Guide to Success After the MFA."
Why we're excited: Cambium Learning Group companies offer digital PreK–12 solutions with a human touch. We at Boclips spend a lot of time thinking about how to enhance digital learning experiences to promote active learning and put users' needs first — a practice on which Cambium seems to lead. If Ashley's recent blog post, "5 Lessons from an EdTech Leader," is any indication, we expect she has much to teach about education solutions that "blend digital with care."

Photo description: Headshot of Jamie Farrell wearing black against a white background
5. Jamie Farrell
Chief Revenue Officer
Emeritus
Jamie's ASU+GSV bio: "Jamie Farrell is the Chief Revenue Officer for Emeritus, where she works with the company's global business heads and their teams to establish a focused revenue function across respective business lines. She also scales and drives all enrollment functions, including advising growth partnerships and revenue analytics and operations. Farrell has spent a career impacting millions of lives through education, serving as chief operating officer, chief revenue officer, senior vice president of marketing and admissions, and vice president for business development at such ed tech companies as Trilogy Education, 2U, General Assembly, Academic Partnerships, and Graduation Alliance. She has an unwavering belief in the ability of education to transform lives and has demonstrated time and again her expertise in building and driving teams to achieve that mission. Farrell is currently a board member for Credly, as well as an advisor for OnDeck and Osmosis."
Why we're excited: Aligned with this year's "Ed on the Edge" theme — "imagining a new era in which all people have equal access to the future" — Emeritus is working to make education and upskilling affordable for learners around the world. We've got our eye on companies like Emeritus, expanding education access through technology and fresh approaches to curriculum development.
---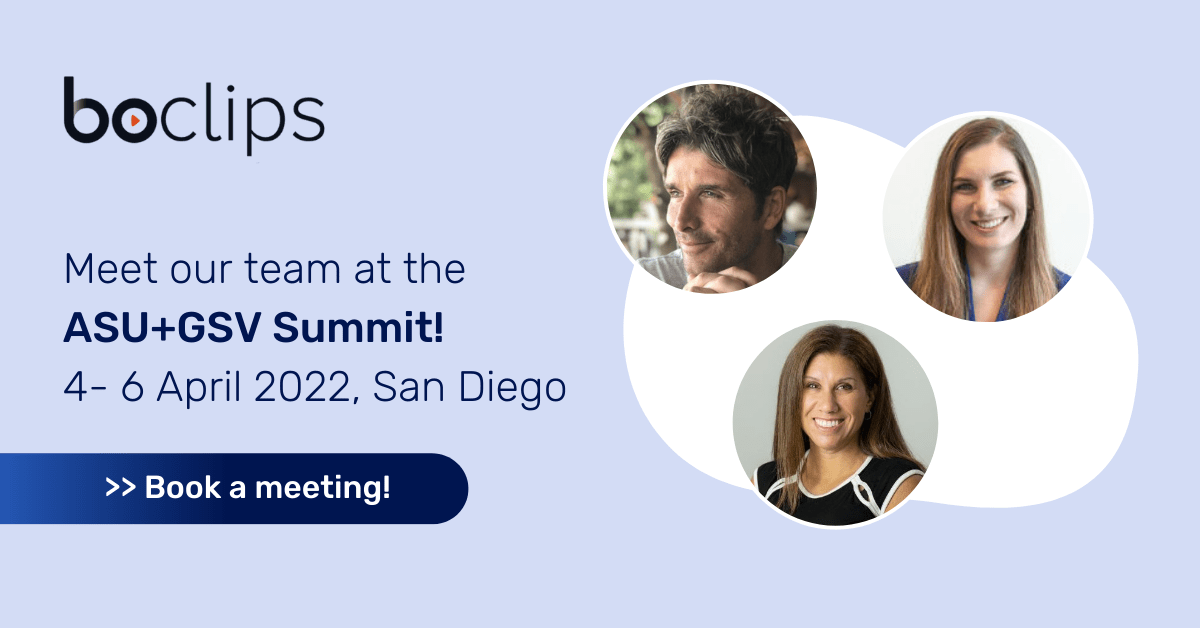 Who are you looking forward to hearing at ASU+GSV Summit? Let us know. And if you'd like to schedule a meeting with a Boclips team member at the conference, reserve time on Amy's calendar (higher ed) or Melissa's calendar (K–12). We hope to see you there!