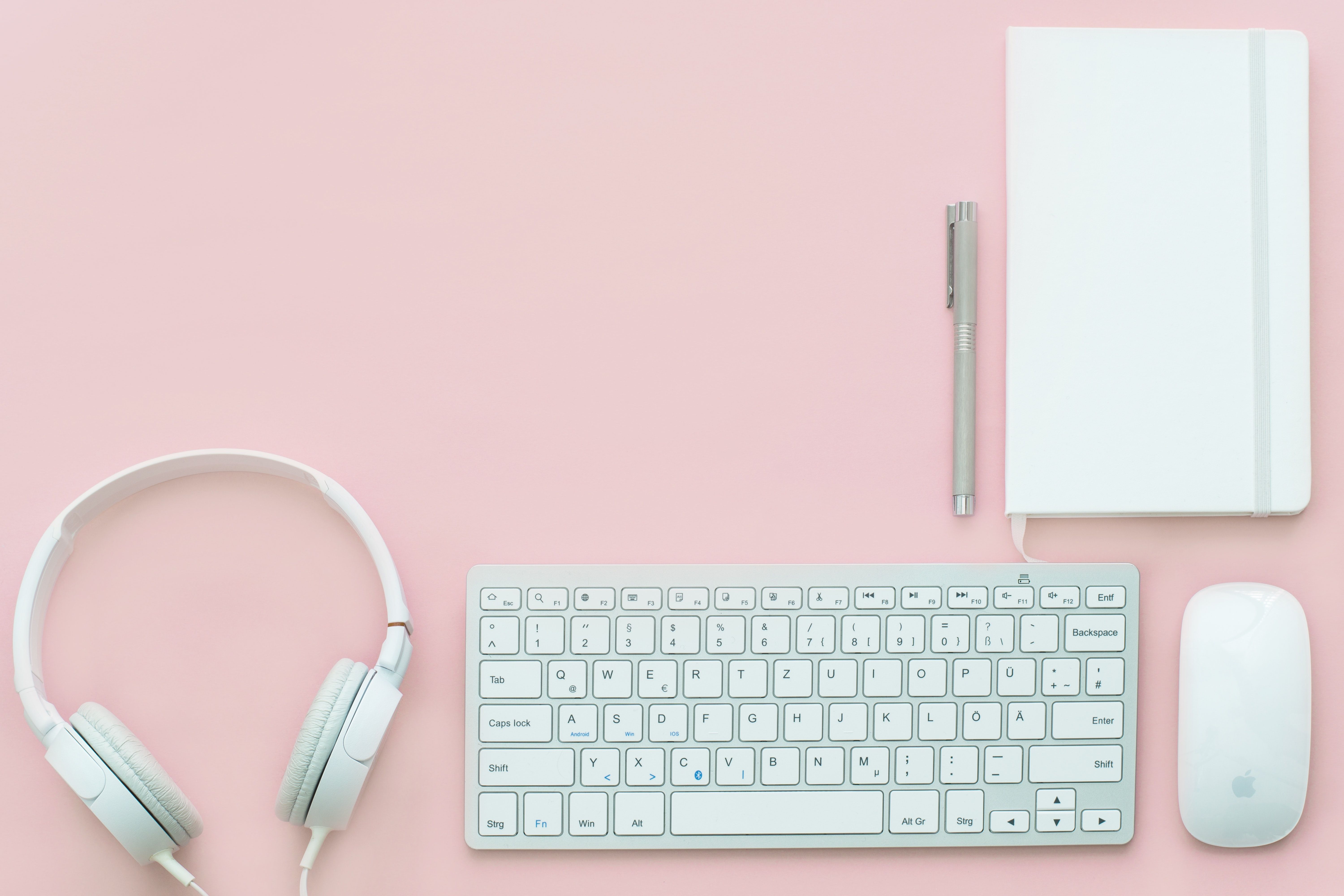 Description: Duotone photo of white headphones, notebook, pen, keyboard, and mouse on a pink background. Photo by LUM3N.
For anyone with strong vision: Can you imagine trying to navigate the internet as a person who is legally blind?
Some websites may be easy to access but others may be impossible for you to use. Similar barriers affect people with a range of different sensory and informational needs every day.
While accessible technologies have come a long way, there is still a lot of ground to cover. The education sector, in particular, can improve in this area so that all students have an equal footing on their academic journeys.
The upcoming education conference in San Diego, ASU+GSV Summit, will focus on "imagining a new era in which all people have equal access to the future." This broad topic might encompass everything from making college affordable to creating educational materials and technologies for learners with sensory impairments, other disabilities, or any number of learning styles.
We're especially looking forward to attending ASU+GSV because it will create space for exciting conversations about accessibility in education.
First, though, what exactly is accessibility in education, why is it important, and how can education professionals and companies focus on improving in this area? Let's explore.
What is accessibility in education?
Accessibility in education gives all people the same access to educational experiences, services, and information, whether a person has a disability or not. Another important element is the ease of access for students who need these features and accommodations. It must be easy for students who need accessibility accommodations or technologies to find and use them. For instance, if students can borrow laptops at the college library, refreshable braille or screen readers should also be available for blind students to borrow.
You can learn more about accessibility through the National Center on Accessible Educational Materials.
Why is web accessibility important?
As many as 90% of websites don't meet Web Content Accessibility Guidelines set by the World Wide Web Consortium. In other words, most websites aren't very accessible for people with sensory impairments or other needs. This is a big problem for the education sector.
Students spend a lot of time online. This is especially true now that virtual, hybrid, and remote learning play bigger roles in education. From researching to interacting through virtual chats and calls, signing up for courses, watching educational videos, and doing homework, students participate in many online activities. To succeed, all students need to be able to easily engage in these activities. One major concern is closing the digital divide that prevents some students from accessing online learning due to a lack of internet access or devices. Beyond that, online educational materials must accommodate the diverse sensory needs of students.
It's the responsibility of those who design online education environments to make sure they will be accessible for all students. This may seem intimidating. Yet, fortunately, many aspects of accessibility are simple and easy to implement. Let's take a look at how to design with accessibility in mind.
Designing with learning for all in mind
Instructional designers, LMS platforms, and education companies can do a lot to design websites and content for students with a wide range of abilities. Here are just a few ways you can make your website, educational videos, and other digital media accessible:
Ensure there is high contrast between the words and the webpage or video background.
Use large, easy-to-read fonts.
Add closed captioning or captions to videos and live events.
Include descriptions of images and photos and offer audio descriptions in educational videos.
These and other accessible technologies can go a long way toward making it possible for students with disabilities to be able to fully participate in learning.
At Boclips, you can see this in action. Our educational videos and rich media content include transcriptions or captions. If you browse through our website, you'll also notice that we also include image and photo descriptions for those with visual impairments.
Designing with learning for all also means considering people who are not neurotypical, are English language learners, or have different learning preferences. As Natalie Jung, Boclips Account Manager, highlights, "education is not 'one size fits all.'" At Boclips, we help instructors reach English language learners by making our content available in many world languages. Another way to meet diverse needs is by presenting information and content in a variety of approaches. Using a combination of visual, auditory, self-guided, small group, and whole-class activities will help make sure all students' needs are met.
Looking for more ways to improve your content's accessibility? Explore some additional ideas outlined by Natalie Jung.
Let's continue the conversation
Are you ready to learn more about how Boclips prioritizes accessibility in our educational videos and other rich media content? Schedule a meeting with a Boclips team member at the ASU+GSV Summit! Reserve time on Amy's calendar (higher ed) or Melissa's calendar (K–12). We hope to see you there!