---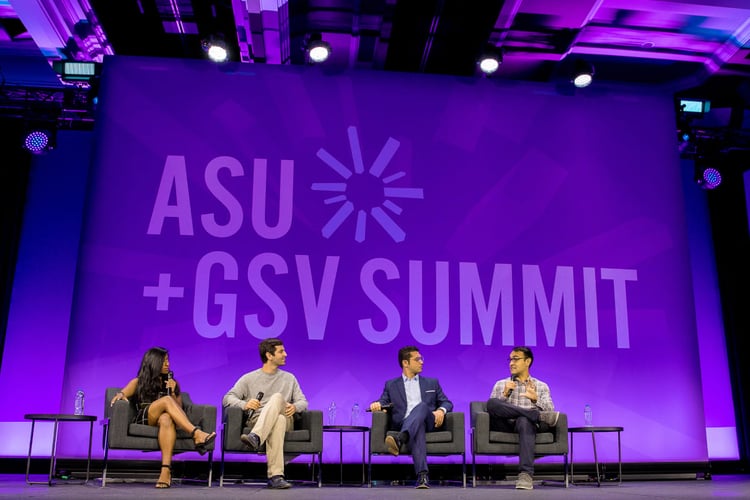 Description: Four speakers sit onstage at the 2022 ASU+GSV Summit.
Inspirational, innovative, and provocative are just a few words to describe the recent ASU+GSV 2022 Summit. With a theme of "Ed On the Edge," the conference featured world-class speakers who sparked essential conversations about education.
The energy of so many talented and passionate education professionals in one place was palpable throughout the conference. We were thrilled to attend and meet other people committed to innovation in education technology.
Most of all, we were thrilled to return to Boclips with inspiration that would influence and improve our work.
Here are some of our key takeaways from the conference:
The State of Education is Drastically Different from 2010
In his keynote speech, Michael Moe, founder and CEO of GSV, shared some information and statistics about how education and the world have changed over the last ten years. Specifically, many influential technologies have grown from popular to ubiquitous. Take a look at some statistics: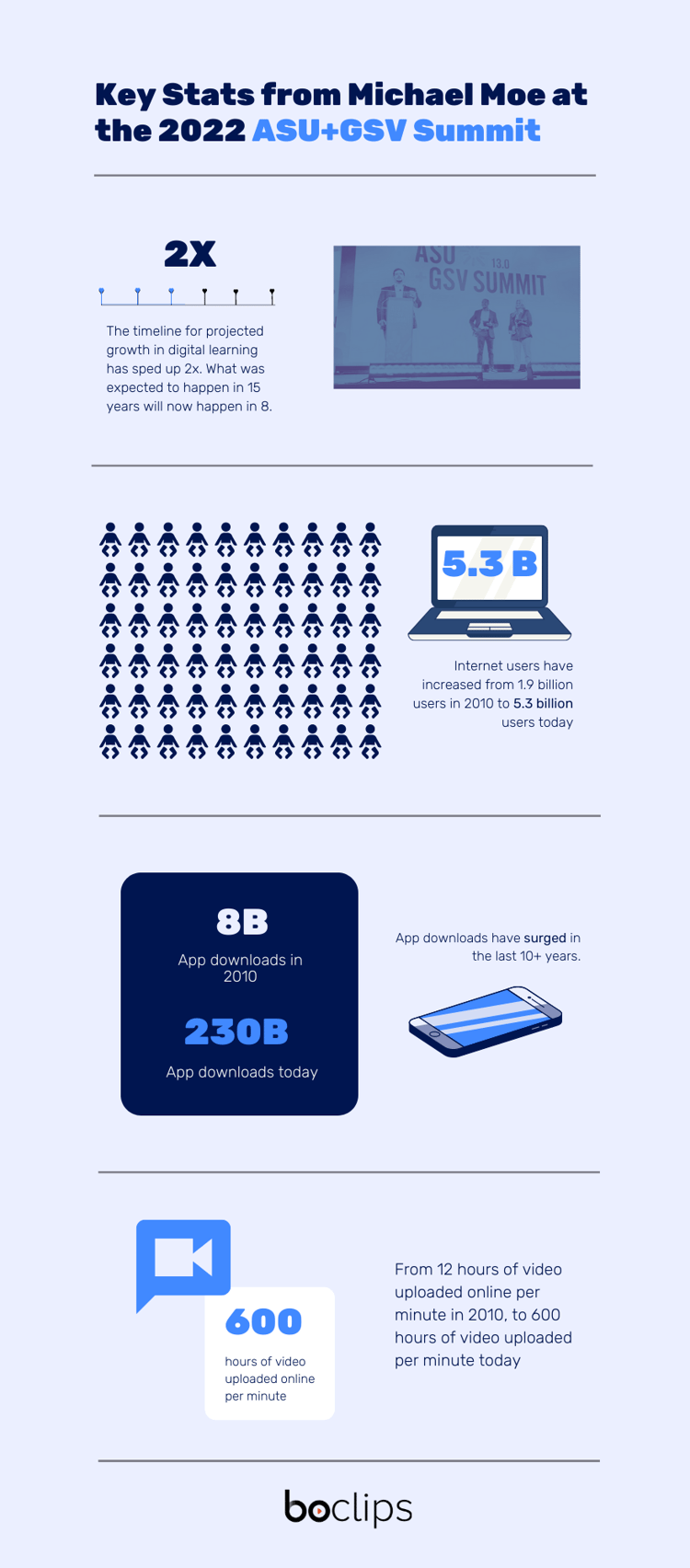 The Covid-19 pandemic has made a big impact on education, which Moe notes. Specifically, the pandemic has accelerated digital learning, meaning growth that had been expected to take 15 years, will now take place in just 8 years. Moe also highlighted the growth of professional and workplace education training. Additionally, the emergence of the metaverse, 5G, and other innovations will shape education in the coming years.
Moe ultimately challenged guests to focus on finding their purpose and impacting others, if possible, through education.
Hybrid Education is the Future of Education
Divya Golkulnath, a cofounder of BYJU'S Learning App, widely considered the biggest edtech company in the world, believes that hybrid learning is the future model for education. With a background as a teacher, Golkulnath shared that she believes some things can only be taught in person. Yet, she argues that some subjects and content can be taught better online.
In her ideal set-up, Golkulnath says that teachers would serve as guides and mentors, working with students to achieve their learning goals. She touted videos and online apps for learning at home, as they are more effective than traditional methods, such as textbooks. In addition, Golkulnath pointed out that technology makes personalized learning more accessible for learners. For example, BYJU is available in various regional languages in India. Similarly, Boclips meets unique student needs with closed captioning, transcripts, various languages, and other accessibility features. Where Did Learning Styles Originate?
Technology Solutions Are Working
One theme that dominated discussions was the influence of the Covid-19 pandemic on education. Over the past few years, all education organizations have scrambled to make sure they could meet the needs of students using technology. While there was a learning curve, edtech solutions are proving to add a lot of value to the educational experience.
The panel discussion on special education highlighted that research in the area of technology hadn't been pushed until the pandemic made it impossible to ignore any longer. Although they had been skeptical, many specialists in the field found that teletherapy was effective. Specifically, professionals in the special education space also found that technology could facilitate meeting goals outside specific intervention times, which have traditionally been limited to once-a-week sessions.
Similarly, the panel on Competency-Based Education explained that technology brings flexibility to learning. Flexibility can be what makes or breaks educational opportunities for many adults. Online programs allow students to work at their own pace and interact with the course content when they are able.
However, both panels emphasized that the human touch alongside the use of technology is essential for helping students succeed in learning.
---
Did you attend the ASU+GSV Summit? We would love to hear your thoughts on the conference and what inspired you the most. Get in touch with us on Facebook, LinkedIn, or Twitter!