If you're like most teachers, you're already using some kind of video platform to share videos with students. Whether you're using a free video streaming site like YouTube, an all-in-one paid education site that includes videos, or a more streamlined solution like Boclips for Teachers that puts videos front and center in a curated way, you know that sharing videos with your students is a great way to meet them where they are.
But there are a few important questions to consider before using videos in your lessons: How long should a video be? How can you make sure it's safe for your students? What's the best way to share it with them? How can you make sure that they're actively engaging with the material? Let's have a look at how you can ensure that video is as effective as possible in the classroom: whether that's in-person or a remote learning setup.
<<Want to learn more about how you can amplify great teaching with video? Schedule a demo>>
Question 1: Are the videos age-appropriate?
No teacher wants to start playing a video in a lesson, only to realize that it's not appropriate for their students. Whether the level is too advanced, the language very complex, or the information inappropriate, getting this wrong can be distracting, embarrassing, or even harmful for students. If you're using Boclips for Teachers the filtering feature is a great way to narrow down search results to those that are suitable for the age of your students. While this tool can certainly save you time, we always recommend watching the video all the way through before playing it in a lesson.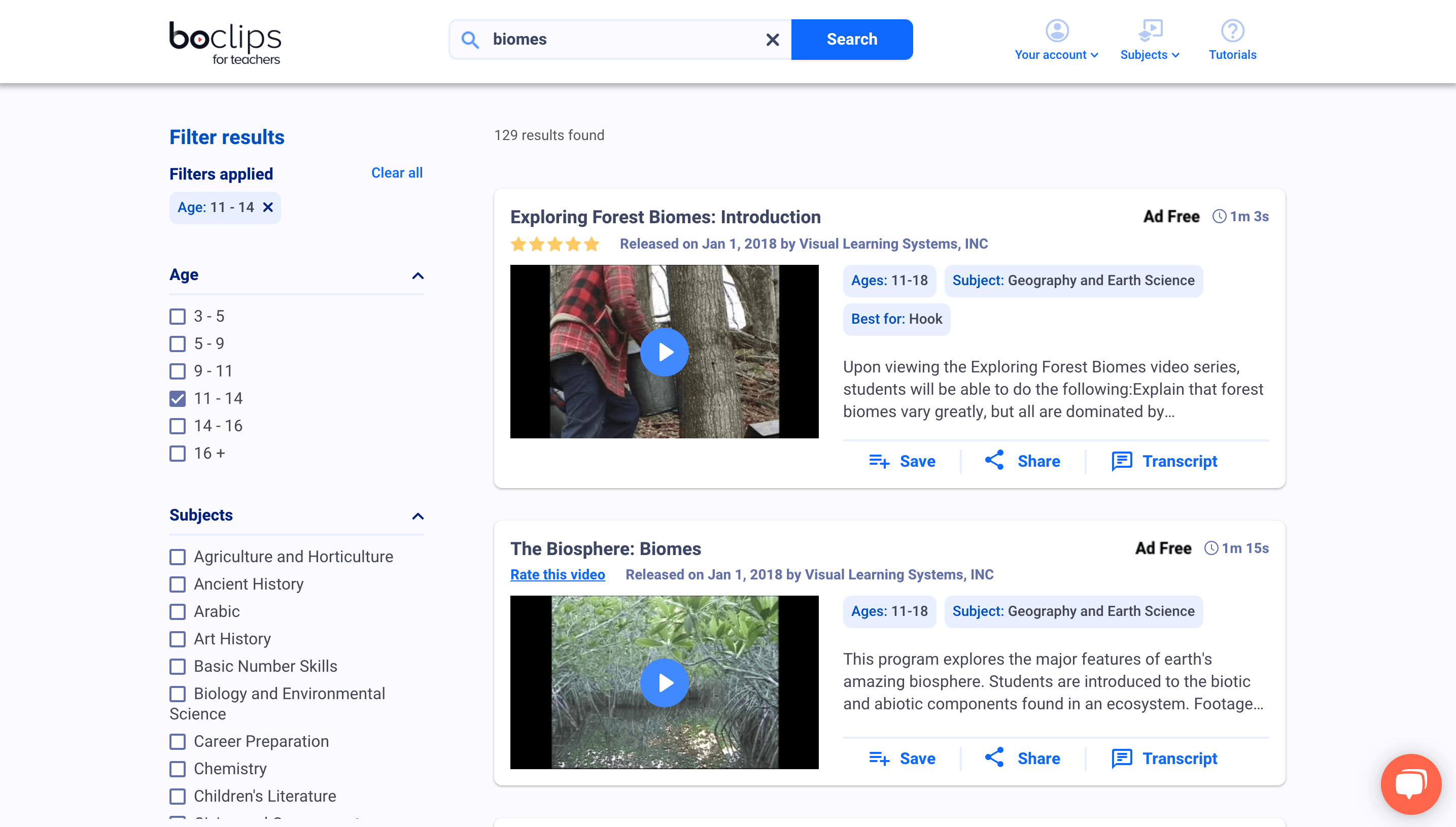 Question 2: Are the videos the right length?
In the past, teachers had to use long-form documentaries in their lessons and find a convenient point to pause. Now, that work is done for them. Video producers have realized that short-form videos are best for capturing students' attention and maximizing learning time. But what is the optimum length for videos in the classroom? A study from Vanderbilt University shows that engagement rapidly drops off after six minutes, which is why over 90% of the video content on Boclips for Teachers is under six minutes long. You can also use the duration filtering tool when you're searching for videos to narrow your search based on video length. Then, when you use the Boclips sharing feature, you can even highlight a section of the video for students to focus on.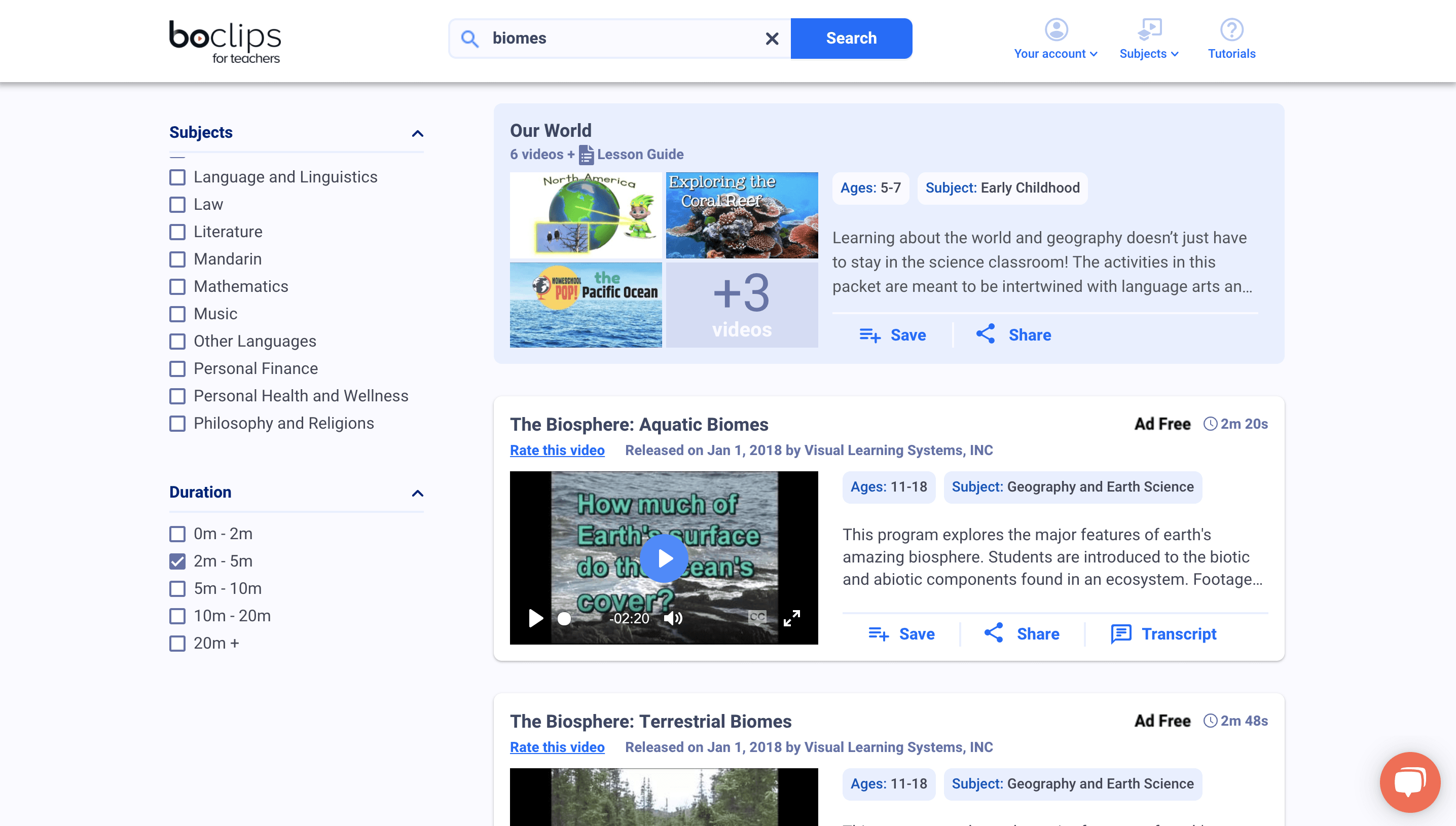 Question 3: Is the platform safe and secure?
There are a lot of concerns about the safety of open video platforms and sending students to these sites can be distracting at best, dangerous at worst. At a time that demands vigilance and caution, Boclips for Teachers gives educators peace of mind when sharing videos with their students. There are no ads or comment sections, no student data is collected, and every video has been curated specifically for education. This is particularly important with remote learning, when adult supervision may be limited.
When you find a video you want to share with your class, you can share the link directly into Google Classroom or paste it to your LMS, student communication tool, or wherever you usually share resources with students.
Question 4: Is this actively engaging?
While over 50% of US Teens and Tweens watch online videos every day (Common Sense Media, 2019), it's important to remember that consuming media for entertainment is different from watching videos to learn. Students often need to be taught how to actively engage with educational videos and Boclips provides some resources to help! For short, engaging activities to pair with specific videos their lesson guides, which are aligned to Common Core and NGSS Standards, are a great place to start. You can also use their strategy sheets if you're looking for more general ideas that can be used with almost any video. These quick and easy activities are adaptable to meet the needs of your students and will help them to extract the most information possible from video resources.
Video is a powerful, engaging resource that allows you to bring the real world into your classroom. But as with any valuable learning resource, it needs to be carefully managed to ensure that it has maximum effectiveness. Boclips gives you access to an extensive library of high-quality resources without the issues of open video platforms. With easy search, sharing, and supplementary resources to help you use video effectively, you can be sure that students will actively benefit from video, rather than just passively consuming it. If you want to find out more, get in touch!