We're happy to share that the feedback generated from teachers in the beta version of boclips for Teachers has been fantastic. Much of this feedback has helped to drive our product roadmap. As a result, we're excited to share new releases you'll see when logged in, items that we're currently working on, and what is coming in the future.
<<Are you looking for resources to support online learning? Visit our Remote Learning Toolkit to find videos, teaching strategies, and training webinars>>
Now Available in boclips for Teachers:
🙋 Support Chat Added: We've added customer support chat which appears as an orange chat icon in the lower right of your window. If you're having trouble finding the right content or want a little help getting to grips with the site, click on the chat icon and a member of our support chat will be ready to help.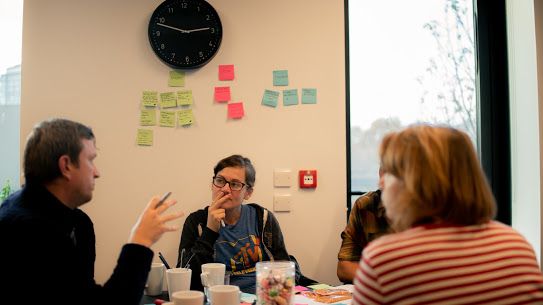 The boclips team contemplating next steps with the teacher feedback.
🗞 Seperating News Content in Search: You might have noticed that we've got a lot of news clips, which is great if you're looking for that type of video, however, it's not so great if you're looking for something else. To improve search, news content has been separated. You'll now see a new button called 'View News' that appears on the right-hand side of your search results.
📱News Content Available on Mobile: All news content is now available when browsing on mobile.
What we're working on:
🔎 Improving Search: Search is a big area that comprises many components. We've started work on adding an autocomplete function as well as improving associated synonym recognition. Synonym recognition, is an exciting feature as it helps surface the most relevant content out of any content library. For example, if you search World War 1 you'll also want results that feature the term 'WWI' and 'Great War,' but without synonym recognition they wouldn't be returned by your search. Synonym recognition is an invisible feature that underpins all great search engines, and we're hard at work to bring it into ours.
📕 Multiple Collections and Personalisation: A Collection is where you save your favourite videos in boclips, and currently you only have a single Collection. Very soon you'll be able to create multiple collections with the added ability to personalise them through naming and adding pictures.
In the Future:
💌 Share your Collections: We imagine you're creating fantastic collections and we want to give you the ability to share them with other boclips users.

🎓 Curated Collections: We'll be releasing 'Top Picks' Collections, curated by teachers in their chosen subject and topic areas.
🔎 Improving Search: Our goal is to make it quick and easy for teachers to find high quality, relevant video for the classroom. There's a lot of different routes we can take to improve our search engine, and over the next couple of weeks, we'll be exploring prototypes with teachers in London to get first-hand feedback.

🎯 Improving Content: Our content team is working every day to search out the best educational video content out there and bring it to boclips for Teachers. If there's content, you already love that isn't available on boclips let us know, and we'll start talking with their provider.
Get access to other resources to help teach your students media literacy with a FREE account to the beta version of boclips for Teachers! And don't forget to get social! Join us in the #boclipsEDU teacher group.