February is Black History Month and Boclips for Teachers has resources to incorporate Black history videos into any lesson. Bring living history into the classroom with engaging videos on everyone from Miles Davis to Missy Elliot, Toni Morrison to Angie Thomas, and Harriet Tubman to Maya Angelou.
Check out these classroom-ready videos in our growing Black History collections. Don't have an account? Sign up now!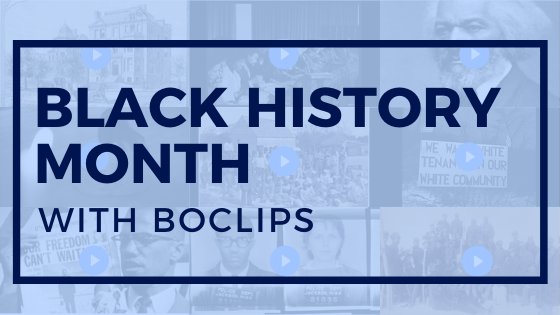 Images from Red Rock Films Black History Series

Black History Month
Celebrate this Black History Month by exploring the cultural history of the Black experience in the United States and around the world. The videos in our general collection offer students opportunities to dive deeper into history, linguistics, law, and cultural studies to challenge their assumptions and expand their understanding of Black history. From Black History Month for kids to the cultural history of names, these videos suit a variety of ages and classrooms.
We've even included a worksheet that can be used with any video in the collection.
<<Want to learn more about how you can amplify great teaching with video? Schedule a demo>>
Black History: Arts, Music, Fashion, and Culture
Art is the ultimate expression of culture and identity. These videos have been selected to help students explore familiar pop culture and to expand their understanding of Black art history. Highlights include the Black beauty industry, trends, and African symbols in fashion and textiles. You'll also find insights from great writers like Toni Morrison, the poetry of Tupac, the impact of the jazz age, and Missy Elliott's contributions to the philosophy and cultural aesthetic of Afrofuturism.
Alongside the collection we've included a student worksheet which offers a great follow-up activity to one of these video hooks. Students will write a comparative media analysis using textual and visual media of their choice.
Black History: Black Women Making History
Inspire students with the stories of exceptional women who have shaped women's rights, civil rights, the arts, education, and politics. Black women have made their mark across history and in every industry. Celebrate the creativity, leadership, and activism from legendary women like Ella Baker, Shirley Chisholm, Toni Morrison, Oprah Winfrey, Angela Davis, and many others!
Black History: Civil Rights Leaders
In the face of social injustice and oppression, civil rights leaders risked their safety and freedom to fight for change - and their efforts not only caused significant social and legal progress, but are the stories we learn from in the face of injustice today. Explore the legacies of famous and pivotal figures in history, like Ella Baker, Martin Luther King, Jr., W.E.B. Du Bois, and Malcolm X.
Black History: Sports, Activism, & Legendary Athletes
These legendary athletes are stars and innovators in American sports, from Jackie Robinson to the late Kobe Bryant. Athletics has a history, too, of activism and commentary on social change. This collection will help your students contextualize sports in American history with the Black experience, and learn about legends along the way.