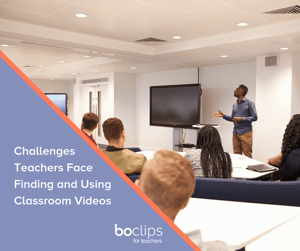 There's nothing quite like seeing a concept finally "click" for a student. Teachers work hard every day to spark that learning and understanding, and often use educational videos as a powerful tool to help explain and illustrate topics. Unfortunately, finding and using an educational video in the classroom isn't always a simple task. Our recent research found that over 60 percent of teachers report feeling frustrated when searching for educational videos. Have you ever encountered any of these challenges using video in the classroom?
School Restrictions
Schools frequently limit access to certain websites to ensure students aren't exposed to inappropriate and explicit content. As a result, teachers frequently have to adjust on-the-fly and use a patchwork of resources simply to play videos in their classrooms. While it's possible to make it work, it's certainly not convenient when a great resource that plays at home doesn't work in the classroom.
Platform Distractions
Clickbait, ads and irrelevant content from unverified sources abound on open video platforms. Though you may start searching for videos meant for class, before you know it, you're watching compilation videos of cats late into the evening and going to bed with uncompleted lesson plans. Not only does this content actively work to distract you, but it interrupts the learning process for students.
Quickly Finding Quality Videos
Sorting through hundreds of search results on open video platforms to find the right clip for your lesson can be incredibly time consuming. First you have to find a selection of videos that align with your subject. Then you have to determine whether or not the video is appropriate for your grade level. Does it fully explain crucial concepts? Did the video use accurate and vetted sources? After you find a few videos with promise, you have to take the time to scrub through the video to make sure there's nothing that raises red flags.
While finding a video for a lesson seems like it would be a fairly simple task, many teachers encounter difficulties that make using video in the classroom more complicated than it should be.
Tired of it?
If you're frustrated with any of these challenges, consider signing up for Boclips for Teachers. With over 120+ globally recognized content partners, it's easy to find vetted educational videos safe to access from the classroom. Every video plays distraction-free, keeping you and your students focused on learning.
Sign up before June 30, 2019 and receive a full year free.