Engagement with your students isn't always easy if you teach some of the core K12 subjects like reading, writing, and math. You don't generally get to run around, get the paints out, or start banging a drum in those lessons. Plus, the pressure for exam and homework results is often intense.
As a student teacher, I spent hours of my day inventing 'fun games' and 'super interesting puzzles' to keep my slightly naughty teenage boys from daydreaming during class. These were hours that absolutely could have been better spent marking books, setting targets, or even relaxing at home ready for the next day!
A reliable tool for engagement that didn't take up so much time, though, was video content. By introducing a new topic with video I was able to kill so many birds with one stone, it really was incomparable in terms of impact on learning. Video always garnered absolute engagement from my students, who were excited to use visual and 'on trend' ways of learning. On top of that, I found that the scripted explanations and well-drawn diagrams always did better than I could with a whiteboard and pen.
Boclips for Teachers aims to make accessing this engaging and valuable content even easier with a safe, copyright assured, and accessible platform for teachers. By carefully selecting only the most useful videos from education and broadcast producers, Boclips for Teachers allows educators to easily find a relevant video for almost any topic. For a while now, our most popular hits have been for math learning videos.
Boclips works with a host of providers including Learnzillion, Visual Learning Systems, Super Geek Heroes, Numberock, and Let's Tute. Their videos provide a wealth of choice for different math topics that allow teachers to explain complicated ideas, like algebra or fractions, with a range of differentiated and visually clear diagrams. On top of all of that, Boclips has curated the best math YouTube channels on offer, using recommendations from teachers themselves.
You can find what you need for your next lesson using the search bar on the homepage, but in case you're stuck and in need of some inspiration, the ready-made mathematics collections will help any teacher out of their rut. A quick glance will show you the breadth and depth of math learning videos available, including lectures, animated explainers, experiments, and real-life examples of concepts like measurement, proportion, speed, and geometry. Users can bookmark their favorite collections to come back to again, or make and share their own as well.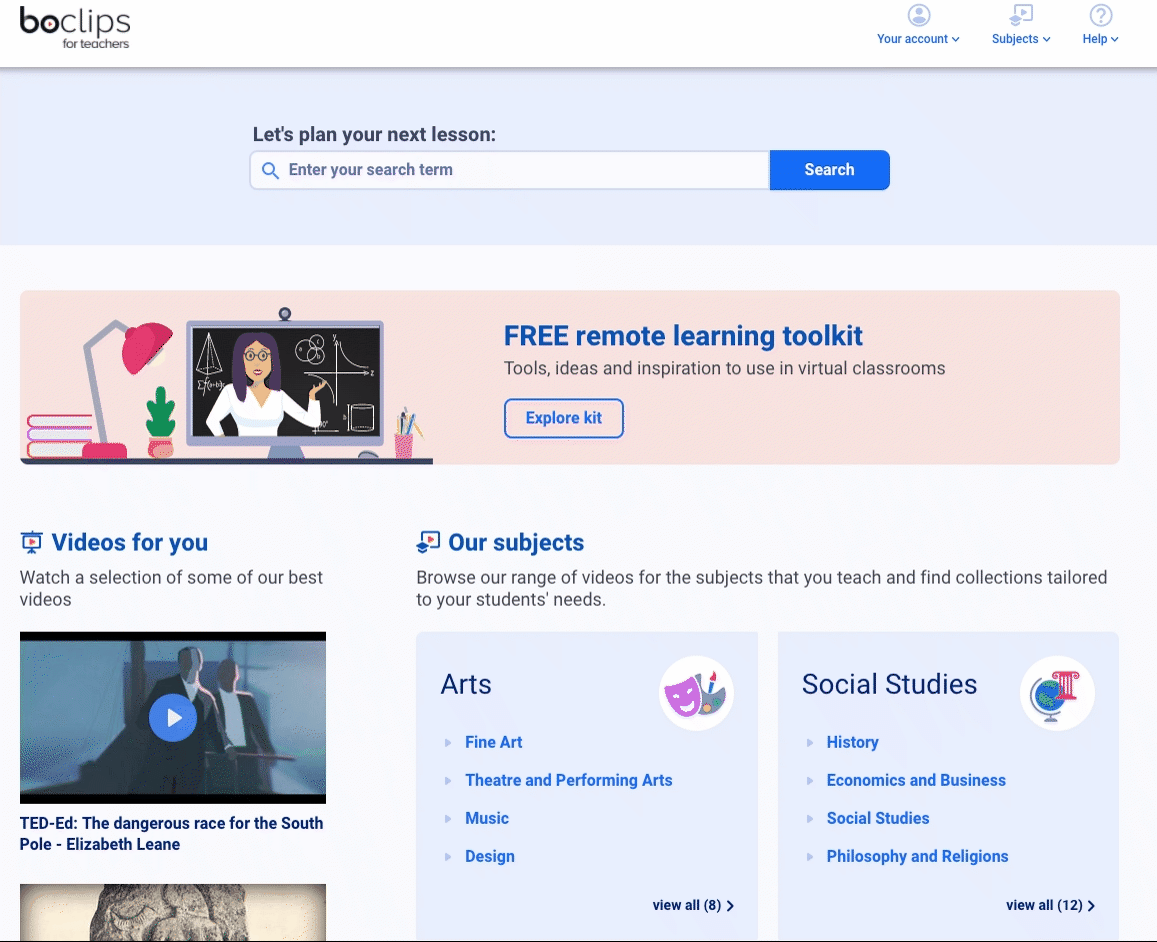 It really is amazing to see the multitude of ways you can introduce a topic to a class using video content. For example, why not start introducing tessellations for geometry with a video about Islamic art, explore the history of numerical systems with a TED Talk, or understand how statistics can be applied to sports match predictions. With Boclips for Teachers, math learning can be synthesized into visually engaging chunks and made relevant for every learner. Slowly but surely math lessons will become the best class of the day for your students!
To get started, visit boclips.com/teachers and sign up for a demo!