When it comes to teaching collaboration and inquiry skills, many educators face a tough hurdle: the ever-present pressure of rigid test-oriented standards. But reinforcing core learning outcomes to meet state and federal standards doesn't need to be antithetical to innovative teaching methods.
Project-based learning is a pedagogy that flips the classroom and puts responsibility for learning in the hands of students. This can be a daunting concept! Classrooms are difficult to manage, and many teachers have to constantly resist the urge to control every minute detail of the day and rely on routines to keep structure and calm. But learning environments can, and arguable should be, dynamic because the real world we are preparing our students for is dynamic too.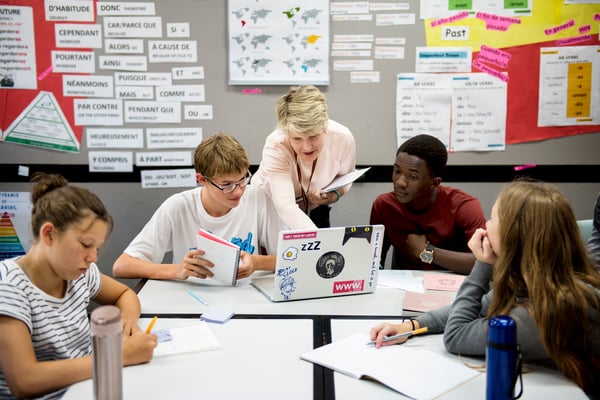 We as educators often say that we are preparing the leaders of tomorrow. By bringing challenges and problems from the real world to students' desks, we are walking our talk. Allowing students to engage with material on a project level facilitates an environment where they can ask wider questions and exercise their strengths while co-learning with their peers. For teachers, project-based learning is an opportunity to lean into their role as a facilitator. This builds relationships that can establish a culture of respect and alignment early on in the school year, where students feel their skills and curiosities are not just seen by their teacher but actively supported.
For high poverty schools, mixed-ability classrooms, or multicultural learning communities, the opportunities provided by project-based learning kinds can be a game-changer in the development of informational reading skills and collaborative social skills. As we prepare students to be leaders in the "real world," we need to be aware of how we bring the necessary collectivist, leadership, and empathetic skills into the classroom. Project-based group work, when centered around challenges and inquiry, ensures that all students have the opportunity to develop those skill sets.
Some educators feel that an emphasis on group work is effectively lowering the bar. But prioritizing individualism over collective learning within a cohort isn't necessarily more cognitively rigorous. Zaretta L. Hammond, author of Culturally Responsive Teaching, writes:
We have to create the right instructional conditions that stimulate neuron growth and myelination by giving students work that is relevant and focused on problem solving. Just turning up the rigor of instruction or increasing the complexity of content will not stimulate brain growth. Instead, challenge and stretch come with learning the moves to do more strategic thinking and information processing.
At Boclips for Teachers, we aim to create lesson guides with the right blend of student direction and standards alignments. A great way to utilize videos from Boclips for Teachers in project-based learning is to create collections around a theme or topic and share it with students as a resource. Our collections on Ancient Egypt and Ancient China, for example, align to standards while enabling the teacher to act as a facilitator and co-learner. Students have the opportunity to design, research, collaborate, and manage their projects as a group and present them to those in their community who are invested in their success.
If you're looking to explore more about PBL, the National Education Association has a wealth of resources and research discussing approaches, models, and research on project-based learning that's worth a read this summer.