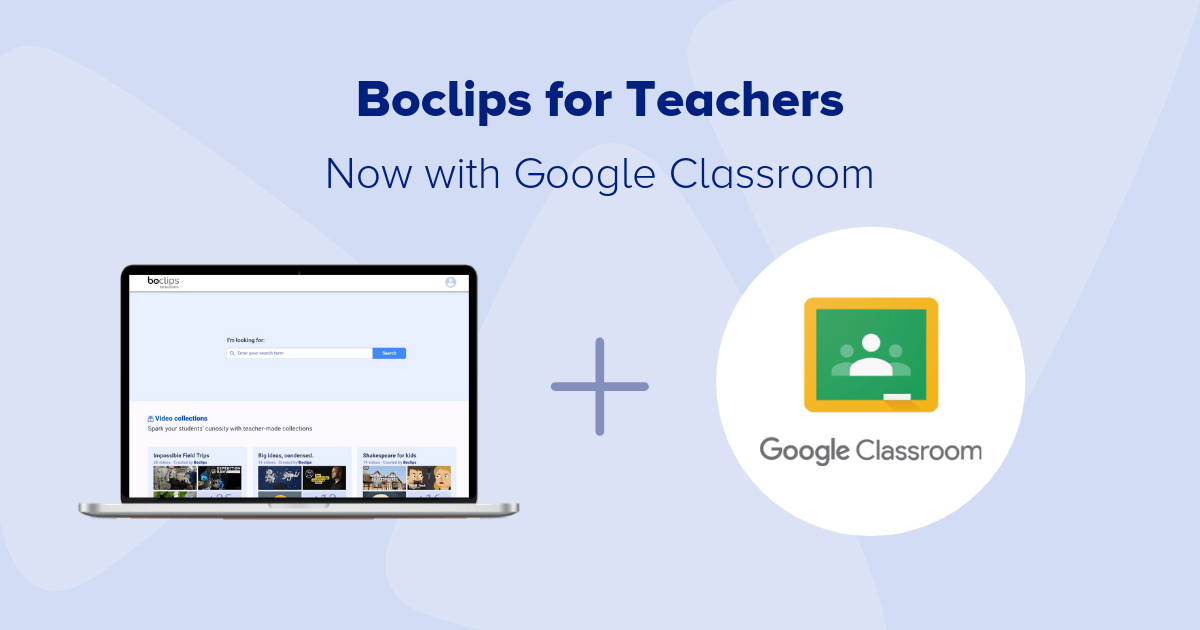 If you're using Google Classroom in your school or district, then you'll love the Google Classroom share button available on Boclips for Teachers. Quickly and simply build out a dynamic course in your Google Classroom using content from Boclips for Teachers using the following steps:
Login to the Boclips for Teachers platform.


If you don't have an account, be sure to sign up for free here.



<<Want to learn more about how you can amplify great teaching with video? Schedule a demo>>

Search for and select a video that you want to share with your students.
Tip: Bookmark or create a collection of videos on a subject to make building out your course easier.

Click on the share icon.

You'll find the share icon on the right of the thumbnail image in the search results, or on the top left side when in full-screen view.
After clicking on the share icon, a pop-up will appear on screen in the Boclips for Teachers platform.
Tip: If you only want to share a portion of a video, note the start and end time of the part you'd like to show. Enter the timestamps into the corresponding fields.

Click "Send to Google Classroom" and select the Google Classroom where you'd like to add the video.

Choose a desired action for the video.
Depending on whether you want the video resource to populate in the stream or classwork view, you'll have the option to create an assignment, ask a question, make an announcement, or create material.

Fill out any additional information associated with the selected action.
This may include adding a description, instructions, bullet points, a due date, topics, or enabling or disabling student comments. From there, assign, post, ask, schedule, or save as a draft.
View the resource in Google Classroom.
While this is a completely optional step, it is always nice to be able to preview what the shared resource will look like in Google Classroom.
Log in to your Boclips for Teachers account to take advantage of how easy it is to share video content in Google Classroom. Don't have an account? Sign up now for free access until August 30.