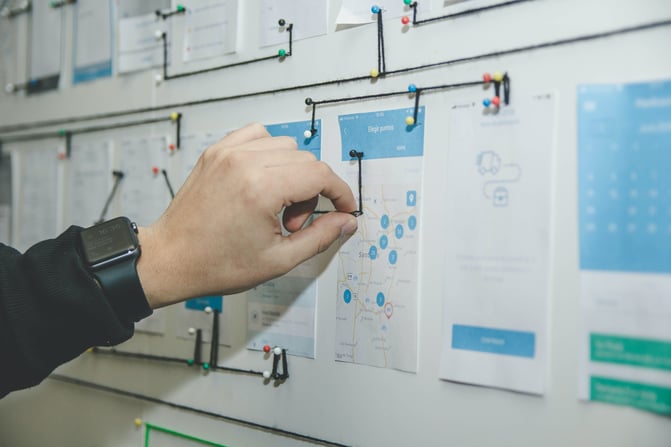 Description: Close-up of a hand pinning a black string, which maps print screenshots of a user flow, on a white wall. Photo by Alvaro Reyes.
If you're an instructional designer, you are very familiar with video content. You may have designed entire courses around a series of lecture videos.
Well-chosen educational videos that align with the curriculum and take the right pedagogical approach can be very beneficial for learning experiences. They may even improve student outcomes. That said, the internet is brimming with videos that may or may not be appropriate for any given lesson. Instructional designers must carefully consider the specific purpose a video will serve when including it in a course, training, or lesson.
Fortunately, there are many creative and effective ways to enhance course design with video content. Here are 4 different educational video strategies to add to your instructional designer toolkit:
1. Flip the class
If your course or training features a chat, forum, or the occasional live virtual class, an educational video can be the perfect primer for discussion. Even short educational clips can offer great jumping-off points for student conversations.
Students can view the video on their own time and then join the conversation in class or in a group chat or forum. Conversations related to the videos can be guided by questions that address important course concepts.
2. Leverage "how to" or instructional videos
As many as 83% of people prefer videos to written or audio content when they need instructions or information. "How to" videos are a great way to walk people through a variety of new skills.
For example, instructional designers can use screencast videos to walk trainees through using different computer programs or apps. Alternatively, maths or science courses can also benefit from "how to" videos that show students how to solve equations or perform experiments.
3. Optimize lesson or lecture videos
These popular educational videos mimic a class. In fact, some teachers may even record their own classes so that students who are absent can view the class at home. Or, students can use the recordings as a reference for reviewing sections or topics as desired.
Lecture videos are widely popular. Despite their widespread use, not all lecture videos provide engaging experiences for students. Fortunately, there are some steps that instructors can take to make their lecture videos more effective. Here are some important considerations:
Shorter educational videos are

more likely to be watched all the way through

.

Six minutes

seems to be the sweet spot. Students are most likely to watch videos that last 6 minutes or less all the way through.
Make the videos conversational, as if the speaker is talking to the students.
Give students some control over the video so they can rewind, pause, and even adjust the speed.
Add interest to the lecture with in-video supports such as animations, headings, or images.
4. Put lessons in perspective
When studying a historical event or a piece of literature that takes place in a different country, educational videos can help put things in perspective. For example, if the course you're designing addresses WWII, including a series of educational video clips from that time period can be valuable. The clips will quickly help students get a sense of the historical and social context and become familiar with important figures.
Another similar use is role-playing videos. These videos can help trainees see how certain strategies or processes may be used on the job. For example, a role-playing video may show how a doctor breaks and explains a diagnosis to a patient. This puts other learning into perspective and helps students acquire more nuanced skills like body language, tone of voice, etc.
Embedding educational videos into a complete course
Instructional designers think carefully about every element they include in a course or lesson. So, it's natural that every educational video plays a role in a larger goal to teach a concept, idea, or information.
Each educational video should be a part of a series of questions, activities, projects, and discussions that support the overall learning goals. Here are some strategies instructional designers can use for framing educational videos:
Focus students' attention on a question prior to viewing a video.
Follow educational videos with a series of questions, a homework assignment, or a discussion.
Invite students to create their own video response. For example, students might create a parody, make their own "how to" video, or react to the video. Then, students can peer review each other's work.
Include questions that students must answer throughout the video, asking the students to pause as they answer. If possible you might embed multiple-choice questions on the same page below the video.
Ask students to use the educational video as a source when writing a report or essay about the topic.
Finally, as you think about including educational videos in the courses you design, don't forget to make sure they're accessible for all of the students.
Educational videos will always be a key tool instructional designers can use to transmit information and skills to their students. How do you use videos when you design lessons, courses, or trainings?
Looking for more ideas? Here are a few more learning activities related to videos that you can use when designing courses and lessons.