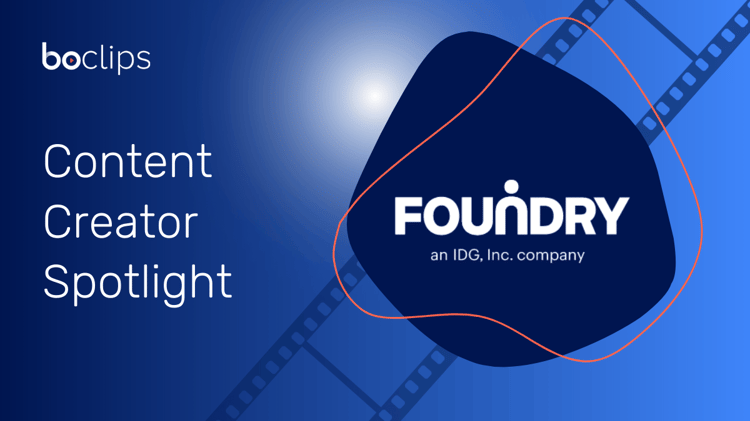 Cue Justin Timberlake, because Boclips is bringing our Content Creator Spotlight back. Every month, we'll be featuring one of our 300+ educational content creators and shining a light on their educational videos. First up is Foundry, formerly IDG Communications. Foundry creates educational videos and other content about consumer tech and IT. Keep reading for a Boclips interview with Foundry and — and for two previews of Foundry videos available on CourseSpark.
Thanks for being our featured content creator of the month. To start off, could you talk a bit
about how Foundry came to be?
Foundry - then known as IDG Communications - has played a key role in every major milestone, announcement, and development in modern technology since Computerworld launched in 1964. Our mission remains to help users and purchasers of technology make the best buying choices, and get more from the tech they own.
For
people who may be unfamiliar, what sorts of content does Foundry develop? What new content do
you have your sights set on in the future?
As it relates to consumer tech and IT, you name it we do it. With 38 offices in markets around the world, our teams support an ecosystem of global editorial brands, awards, and events. We create written, audio and visual content, covering everything from product reviews and guides to interviews, tutorials, analysis, news, and tips.
We continue to evolve with our audience and the technology with which they interact. We see growth in on-demand audio and visual content, as well as narrowband formants such as podcasts and email newsletters. The internet means everyone can be a broadcaster, but our audiences are telling us they want only content that is relevant to them, at a time of their choosing. And that increasingly means engaging with them in the right format on appropriate social platforms such as TikTok and YouTube.
Where do you go for inspiration? What guides your thinking about new content development?
Our mission is reader service, so we follow our audience and the markets we cover, always seeking to give people the information they need. Our editors have hundreds of years of experience in following technology markets and trends, and as a world-leading data and insights company we have unique access to invaluable insights that help us to stay ahead.
Finally, can you
speak a little bit about your relationship with Boclips? What prompted you to become
a Boclips content partner?
Foundry is the world's leading global information technology editorial publisher. In addition to our core market and target audiences of Information Technology executives, decision makers, and professionals, Foundry is striving to reach and influence new markets, including Education. Whether STEM programs, grade school, middle school, high school, higher education, or professional development, becoming a content partner with BoClips allows Foundry to bring its IT informational and instructional video content to BoClips' global reach of education providers, who in turn can incorporate the content into their relevant educational curriculum.
---
Foundry video previews


1. AI and your smartphone: How AI is transforming mobile apps
2. Enterprise security: Keeping the hackers out
---
Want to find out more? Get in touch to talk about how you can make learning more captivating with thousands more videos like these.