A neat way to use Boclips is to let my students explore places that they will probably never get to go in real life. I mean, in all reality, what percentage of my students will ever have the opportunity to see the Eiffel Tower in real life, kiss the Blarney stone, or even visit Niagara Falls for that matter. However, with Boclips, I can take them to these places to explore. They can go most any place that their hearts desire. I can let them choose any location that their heart desires too! That is the beauty of teaching the Microsoft Imagine Academy. Without specific standards per se, I can give the students more voice and choice in what they want to learn about which makes learning more enjoyable for them.
Boclips is a great platform to explore. From beautiful scenes such as the Tower Bridge in London to the depths of the oceans, content is readily available for me to share with students. My students are able to virtually explore places that they would never be able to visit without boclips. They absolutely love being able to explore and see these places. Once a student chooses where they want to visit and explore, they can share what they have seen through representation in Minecraft. They can recreate scenes from these majestic places and share their learning with others. The combination of Boclips and Minecraft is incredible. Students love exploring different areas and then sharing what they have seen through Minecraft. For example, one student chose to visit London through Boclips. In their Minecraft world, they recreated the London Eye that had working parts. They used billboards to tell about its history and what they had created.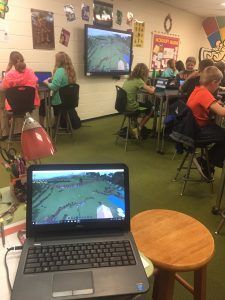 Andreas' students creating evidence of learning in Minecraft.
Seeing Boclips and Minecraft used together in the classroom is impressive. Students are engaged, and the learning is tremendous. It is fascinating to see what happens when students enjoy the learning that is going on in the classroom. When students take ownership and interest in the projects and tasks at hand, then they no longer see it as work. Instead, they see it as fun!
Are you ready to get on board with Boclips? Click here and find out how to get started with Boclips for your school or district.