Instructional designers work hard to create learning environments and experiences that help learners to acquire knowledge and skills as efficiently as possible. But first, designers need to ensure that courseware engages students from the outset if they're to have any hope for the high levels of course participation and skills retention they aim for.
Video is a highly effective means of achieving this and that's why it's been part of the courseware workflow for many years. However, the recent exponential growth in online learning has been accompanied by a corresponding upswing in the importance of video.
According to Beyond Millennials: The Next Generation of Learners, a recent report by Harris Poll commissioned by Pearson, Youtube is the king among social media platforms above even Facebook, Snapchat, and Instagram, with 82% of young people using it regularly. Video is also the preferred learning method over traditional textbooks for Generation Z. It makes sense then that the preferred learning method of subsequent generations will be video-based learning too. Old school chalk-and-talk is going the way of the dinosaur.
We can see these facts reflected in how large companies are choosing to provide in-house training to their employees. For example, a recent Brandon Hall Group survey notes that 95% of companies around the world currently use video for employee training purposes.
While there are many reasons for this change, not least of these is the improved opportunities for interactivity that video offers. In this article, we'll take a closer look at just some of the ways video can be used to enhance courseware interactivity to improve learner outcomes and experiences.
Increases Control
The process of creating high-impact learning experiences for learners is as much an art as it is a science. To be truly effective, instructional designers need malleable resources at their fingertips that give them control over learning materials. With video, designers can edit, annotate, subtitle, and splice the content into its desired shape.
On the delivery end, trainers (or learners) can rewind, fast forward, skip, and pause as required. This control over pace and direction is a great motivator for the learner.
In group contexts, video allows for simultaneous learning to occur in a way that isn't always possible with text. This creates greater control over the pacing of course delivery.
In a self-directed learning context, video helps to keep the learner engaged by giving them control over the pace of their own learning and progress.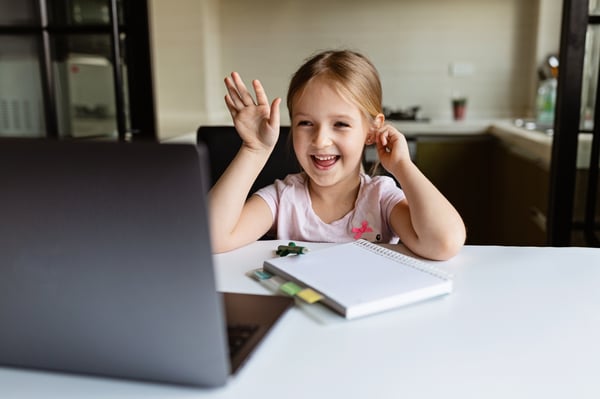 Provides Realistic Learning Contexts
Video can bring a much-needed element of realistic context to the learning process.
As a general rule, it's better to avoid too many abstract concepts when it comes to courseware creation.
Video can see us quickly climb down the ladder of abstraction onto firmer ground. For example, with step-by-step walkthroughs of the desired skill which the learner can then follow and mimic. This type of explainer video illustrates the learning objective clearly to the learner and demonstrates what they will have learned by the end of the lesson, module, or course.
Video by definition can provide strong visual cues that help learner comprehension in a way that reading or listening activities cannot. This is particularly helpful for ESL and SpEd students who may struggle with language and processing.
Video is also an effective tool for providing the learner with valuable opportunities for scenario-based e-learning.
Immersing the learner in a video-based situational simulation creates an opportunity for them to use the skills and information gathered in a realistic scenario. This chance for authentic practice of their newly acquired skills and knowledge is a real confidence booster for the learner.
Optimizes Mobile Learning
With over 75% of videos now viewed on a mobile device, video is perfectly suited to the demands of mobile learning. It gives students the power to watch and interact with courseware wherever and whenever they like.
Mobile learning via asynchronous video offers learners unrivaled flexibility. Not only does it free the learner from the restrictions of time and place, but it gives them the space to reflect and respond to their learning in a way that suits their level of commitment as well as their abilities.
Utilizes Microlearning
In today's attention-hungry times, serving-up learning in bite-sized, easy-to-digest chunks helps immensely with learner retention and creates numerous opportunities for increased interactivity in the process.Video can easily be edited down or divided up to serve up single, highly-focused learning objectives that allow students to pinpoint their attention on key concepts or skills without any distraction.
<<Why are short videos better for learning? Read the post>>
Each stage of a multiple-stepped process can also be linked to supplementary activities with minimal effort. Whether in the form of a lead-in to a collaborative video-based activity or a quiz to reinforce learning, video is often the key element in self-directed or facilitated microlearning.
Not only that, but while microlearning is all about meeting a single learning objective, video can also be used to supplement these objectives and add valuable context. Links can be embedded into a course to bring the learner to videos that teach material related to the original learning objective, though not directly applicable to it. In this way, video can be used to introduce a welcome element of self-directed learning to a course, improving learner engagement and increasing interactivity in the process.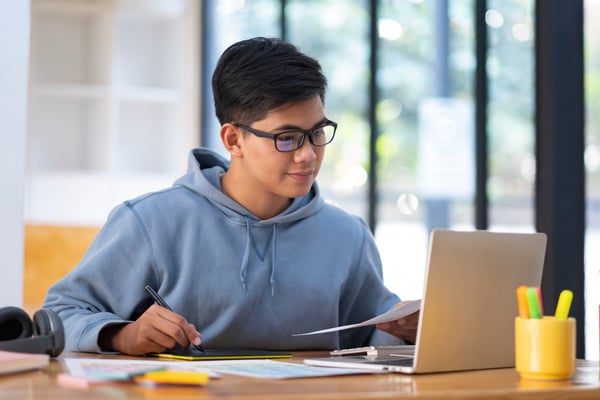 Builds Authority
One of the great challenges of courseware production is ensuring that the content grabs the learner's attention. When content is delivered by a Subject Matter Expert (SME), learners pay attention enthusiastically and are eager to interact with further courseware activities.
The 'appeal to authority' technique is older than advertising itself - and for good reason. It works! Engaging in video that is presented by an SME allows the learner to see the destination they are traveling towards and gets them enthused to continue on that journey.
Get Interactive with Boclips
These are just some of the ways that video can help improve interactivity in courseware.
At Boclips, we know that video is a powerful tool to engage every learner, no matter what they're studying or where they are.
With access to a catalog of over 2 million expertly-curated videos, you'll be able to incorporate high-quality video into your courseware minus the laborious video production processes or the need to navigate convoluted copyright law. Plus, your customers will never have to worry about ads, irrelevant content, or broken links.
With copyright-cleared content from any of the over 200 leading global providers, such as TED, PBS, Crash Course, Sci Show, and many more, Boclips gives you the opportunity to make your courseware more captivating, and to do so seamlessly, and safely. To find out more, schedule a consultation with one of our team.